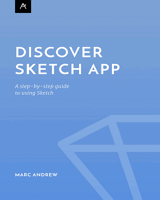 Discover Sketch App: A step by step guide to using Sketch
Length:

227

pages
Edition:

1

Language:

English

Publisher: themmed.com
Publication Date: 2015-12-1
Description
IMPROVE YOUR DESIGN WORKFLOW WITH SKETCH
Many designers & developers are discovering the power and simplicity of Sketch as their primary design tool.
Discover Sketch App provides a detailed step-by-step guide for unlocking the real potential of one of the fastest growing design tools available.
PRODUCE YOUR BEST WORK, AT A FASTER RATE. INCREASE YOUR VALUE AS A UI DESIGNER
Legacy applications like Photoshop are not purpose built for the modern day UI designer. Sketch is. And with this guide, I'll show you why.
Have you become tired of using bloated applications, with so many options that have become an unwelcome distraction? Sketch remedies this, allowing you to regain focus, and producing your best work…
…And I'm sure, with the help of this guide, that will all become very clear.
GAIN A BETTER UNDERSTANDING OF SKETCH WITH THIS HANDS-ON APPROACH
There are a lot of tutorials dotted around that can show you certain methods of using Sketch, but learning in this fragmented way can be frustrating to say the least.
With Discover Sketch App you will be able to gain a much greater understanding by working through a real-world application from start to finish.
Written in an easy to understand manner, with many images to reference, It's the perfect guide to help increase your knowledge of Sketch App, and improve your designs at the same time.
THE 'I WANT IT ALL' PACKAGE
This package is perfect for when to gain an even greater understanding of Sketch, and to reference how a highly detailed design is constructed inside of Sketch (Even use 'Blueprint' in your next project if you wish!).
Discover Sketch App in iBooks, PDF, and HTML formats (220+ pages)
Includes Extra Chapters: 'Creating a Blog Post design', 'Creating a Project Item', 'Handing off your Designs (Working with Zeplin)'
Sketch Tutorial files (9 Artboards – Including every Text Style & Symbol used throughout the guide)
'Blueprint' Premium Sketch file (65+ Artboards) included
Discount code to receive 20% Off Sketch 3
Table of Contents
Chapter 1: What makes Sketch so great?
Chapter 2: Opening up Sketch for the first time
Chapter 3: Creating the Homepage design (for Desktop)
Chapter 4: Creating the Homepage design (for Tablet)
Chapter 5: Creating the Homepage design (for Mobile)
Chapter 6: Creating the Project Overview
Chapter 7: Creating the Blog Post
Chapter 8: Handing-off your designs (Working with Zeplin)
Chapter 9: Time to wrap things up
To access the link, solve the captcha.