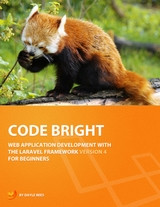 Laravel: Code Bright
Length:

449

pages
Edition:

1

Language:

English

Publisher: Leanpub
Publication Date: 2014-06-01
Description
Code Bright is the spiritual successor to Code Happy. The framework has grown a lot in the past year, and has changed enough to merit a new title. With Code Bright I hope to improve on Code Happy with every way, my goal is, to once again, build the most comprehensive learning experience for the framework. Oh, and to still be funny. That's very important to me.
Laravel Code Bright will contain a complete learning experience for all of the framework's features. The style of writing will make it approachable for beginners, and a wonderful reference resource for experienced developers alike.
You see, people have told me that they enjoyed reading Code Happy, not only for its educational content, but for its humour, and for my down to earth writing style. This is very important to me. I like to write my books as if we were having a conversation in a bar.
When I wrote Code Happy last year, I was simply a framework enthusiast. One of the first to share information about the framework. However, since then I have become a committed member of the core development team. Working directly with the framework author to make Laravel a wonderful experience for the developers of the world.
One other important feature of both books, is that they are published while in progress. This means that the book is available in an incomplete state, but will grow over time into a complete title. All future updates will be provided for free.
What this means is that I don't have to worry about deadlines, or a fixed point of completion. It leads to less stress and better writing. If I think of a better way to explain something, I can go back and change it. In a sense, the book will never be completed. I can constantly add more information to it, until it becomes the perfect resource.
Given that this time I am using the majority of my spare time to write the title (yes, I have a full time job too!), I have raised the price a little to justify my invested time. I was told by many of my past readers that they found the previous title very cheap for the resource that it grew into, so if you are worried about the new price, then let me remind you what you will get for your 29 bucks.
The successor to Code Happy, seen by many as the #1 learning resource for the Laravel PHP framework.
An unending source of information, chapters will be constantly added as needed until the book becomes agiant vault of framework knowledge.
Comedy, and a little cheesy, but very friendly writing.
Free updates for life! This includes all of the updates made to keep the book compatible with version 4.x of the framework. You will receive an email whenever an addition has been made to the title.
Early information from a Laravel core developer.
Support my future writing. I'd love to write more, and have some more books in mind for the future! Including some topics other than Laravel.
My full attention. Find something you don't like about the book? Let me know, and I'll see if I can improve it!
A photo of a red panda on the cover. Seriously, they are cute right?
Table of Contents
1 The Primers
2 Architecture
3 Getting Started
4 Basic Routing
5 Responses
6 Filters
7 Controllers
8 Blade
9 Advanced Routing
10 URL Generation
11 Request Data
12 Forms
13 Validation
14 Databases
15 Schema Builder
16 Migrations
17 Eloquent ORM
18 Eloquent Queries
19 Eloquent Collections
To access the link, solve the captcha.